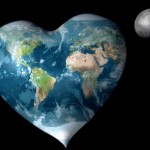 The Map of Love at Work
We want to know where you find love at work – where is Love present in the workplace?
What random acts of kindness and caring, loving affection and courage do you encounter as you go about your daily life?
Tell us – and we'll add them to our Map of Love at Work!
Sustainable Personnel Politics
Quote from BMW's press office, talking about how the company restrains top management bonuses in relation to what average workers receive :
"We don't just want to build sustainable cars. We also want to have sustainable personnel politics. We think this is good for the company culture".